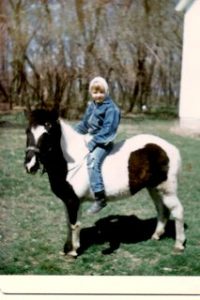 I was born and raised on a small farm in west central  Minnesota.
My father had a deep love of horses and introduced me to riding at the early age of 5.  Bareback is how I learned to sit on a horse.  A technique I still believe develops the best seat,  which is essential for becoming a successful equestrian.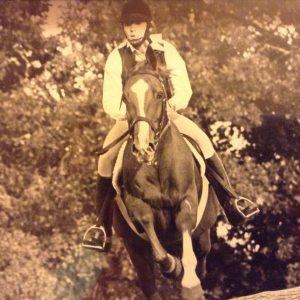 Early breeds were mixes,  some Quarter horses,  Morgans and Appaloosas.  My dad began purchasing race horses in my early teens. Tall, muscular and angular Thoroughbreds, fresh off the race track. Often he would add 5-10 new horses a month. Gorgeous specimens that couldn't win at the track.  But would instead  become good pleasure horses  or hunter/ jumpers under my training.  My bareback riding days were over,  I started riding English full time. I absolutely loved teaching these horses Dressage and eventually jumping. I was in heaven.   At one time we had over 50 head.  Some days, I would ride as many as 10 different horses. Each with a unique and distinctive personality.  By the time I was 16, I became one of the top riders in our area.  Winning high point youth and high point overall trophies.  Dressage,  Pleasure,  Hunter/Jumper classes.  I did it all!  Often times with more then one horse at a show.  I had dreams of becoming of professional ride,  spending my life in horse barns and show jumping arenas.
After high school, I started college at the University of Minnesota,  never to ride competitively again.  I studied psychology and worked with the developmentally disabled for many years. I always had a deep appreciation for art, and stumbled into an exhibit of horse sculptures by Debra Butterfield.  I was so taken by the simplicity and the power of her work I told myself one day I would try to sculpt.
Twenty five years later I am collecting wood at our local lake and began to build my first pieces in 2012. The work brings me back to Equus. My love and passion for this amazing animal has become reborn,  re-purposing my early experiences much like the materials I find lying around everywhere.
The flood of 2013 provided a tremendous surplus of material,  as so many of us were scrambling to remove and dispose of debris,  I was collecting and storing pieces of this devastating event in hopes to make something fresh and new.
The spirit of the horse continues to be center in my artistic expression.  Much of my recent inspiration comes from living in this small mountain town of Estes Park, Colorado.   Surrounded by wildlife,  elk,  deer and bear roam in this idyllic setting.  Giving me a chance to expand my subject matter in the spirit of reclaimed/found materials sculpture.
I am grateful to have a studio in my home, I welcome commissions,  public exhibitions and gallery inquires.  A good amount of my work can be seen at our business on 477 Pine River Lane.  
Elements of Touch Wellness spa in Estes Park.
Save
Save
Save
Save
Save
Save
nbsp;
nbsp;